ENTERTAINMENT CENTERS
Merging Functionality with Style
The family room is often one of the most used rooms in the home. It's where you relax, spend time with family and entertain. You could even say it's the center of entertainment! Every family room needs an entertainment center to not only hide those unsightly cable boxes, consoles and wires, but to give your space a grounding focal point that is both functional and stylish.
Our collection of high quality entertainment centers has been hand selected to ensure all the pieces merge form and function with style. In order to suit all sizes and styles of family rooms or entertainment spaces, our entertainment centers range from sleek and simple to oversized and elaborate.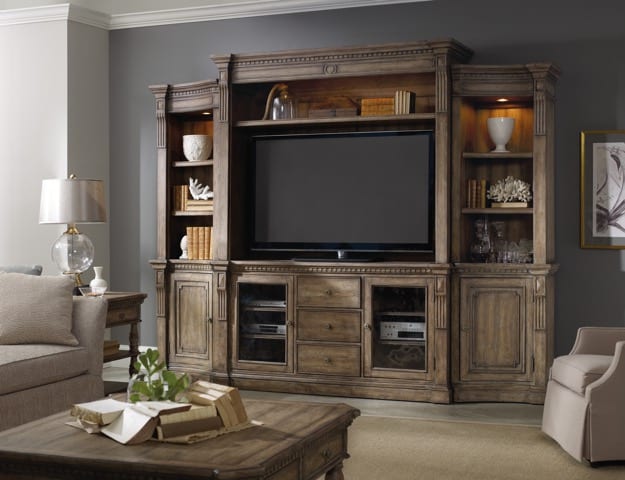 Have Questions?
See a piece you are interested in and would you like more information? We'd love to answer your questions! If you're interested in seeing what else is available from a manufacturer, we can help with that, too! In addition, our designers are available free of charge for design assistance. Complete the form below to let us know how we can help.
Find the Perfect Entertainment Center for Your Space
Whether you just need a simple piece to sit your TV and consoles on, or you want a more involved piece with bookshelves and cabinets to display and store other items, our collection has what you need! Start browsing a selection of our entertainment centers online now! If you would like more information on pricing for any of the pieces you see online, don't hesitate to give us a call.
About Chez-Del Interiors
Since 1946, Chez-Del Interiors has sought to provide a beautiful design for every room in both residential and commercial spaces. Through 72 years and three generations, the DelMedico family has brought hand-selected furniture, custom interior design work and more to customers throughout Ohio. Our showroom is now home to three floors of inspiration. It's your 25,000 square foot, one-stop destination for all your furnishing, decor and design needs.
At Chez-Del Interiors, we believe that a living room is a place for just that—living! Our selection of high quality entertainment centers in a variety of colors, materials and styles is sure to include a piece that is just right for your space. Find out for yourself by shopping online or stopping by our showroom.